No pollution by feeding large amounts of waste at one time from the top
(generates almost no dust, soot, smoke or smell).
Requires less labor and fuel due to the simplification of the operational process.
(Plastic, scrap wood, fiber, medical waste, scrap tire, FRP etc)
●No smoke, dust or soot by keeping the gasification smokeless combustion even for highly fuming waste by using the Meisei's unique Reverse combustion and dry distillation gasification combustion  system.
●Special structured gasification chamber and combustion aided by the reheat burner allows maintaining a temperature higher than approx 800°C and suppresses the generation of dioxins.
●Gasification combustion which generates less dust and soot was adopted, and dust collection by the centrifugal force from a Dry swirling cyclonic airflow system avoids secondary pollution by preventing the dust and soot from scattering.
●Rational built up structure as well as the fire resistant structure and Alumer treated steel plate for the major parts have made
excellent heat and corrosion resistance possible.
It is able to tolerable high-temperature use.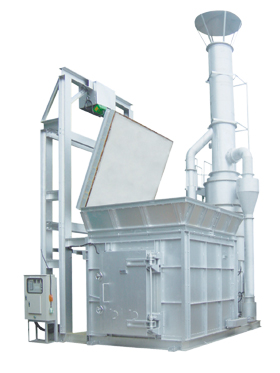 | | | |
| --- | --- | --- |
| Model No. | Incineration capacity/H | External dimensions(m) |
| MGX-50N | 114KG | 5.79×3.47×3.86 |
| MGX-80N | 187KG | 6.81×4.10×4.58 |
Additional feed type for industrial waste
(water cooled wall and numerous air nozzles structure)
Primary chamber and secondary chamber which has numerous air nozzles.
Waste incineration facility which is equipped with the Cyclone type dust collector as a primary piece of equipment.
●Meisei's unique and user friendly double door structure
●9mm steel plate is used for the water cooled wall structure for the main unit. It provides high durability.
●The rapid temperature rising by forcible heating
using the reheat burner in the secondary
combustion chamber as well as maintaining the high
temperature (higher than approx 800°C) allows it to
generate almost no smoke or smell, as well as
decomposing dioxin compounds and it also controls
its emission.
●Almost no dust or soot is generated by collecting and
separating the dust or soot using the secondary
combustion chamber and Cyclone type dust collector.
(Scrap tire, FRP, plastic, scrap wood, fiber, medical waste etc)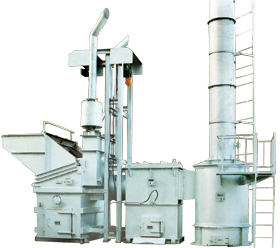 | | | |
| --- | --- | --- |
| Model No. | Incineration capacity/H | External dimensions(m) |
| MDKHBB-190SW | 160KG | 4.56×6.59×2.30 |